At the time of writing this I am 3 years 3 months and 1 day, free from alcohol, god that feels good! I've gone and bloody done it. I've found that freedom I was so ready for, yeeaaaaahhhh!!! I'm pretty sure it was Catherine Gray that said this in her recent book, Sunshine Warm Sober… a sobriety journey is very much like 'peeling back layers of an onion', they just keep on coming. Some with many tears and some with none at all. I think I added that bit about the tears I can't be sure, I don't have the most reliable working memory, so don't quote me quoting Catherine but you get the gist.
This is where my childhood trauma begins to unfold. Amid the turbulence of my midlife, during a pandemic, without an anesthetic. While I'm grieving the slow and gradual loss of our mum to Alzheimers' Disease and guiding two of my sons through their teenage years. It is altogether the most beautiful, painful, exhausting and profound time in my life and although sometimes it feels incredibly heavy, I am filled with gratitude and a deep well of love.
I am still here; I have people who love me and I have some incredibly special people to love back. The gift that I have received from my life experience, is compassion and understanding which has become a powerful driving force.
I have a strange guilt in referring to my 'childhood trauma' but I now understand that despite my mum doing her absolute best, childhood trauma is what I have. I am also aware that this trauma in our family did not start with me, it has been passed down from one generation to the next and there has been much emotional suffering that was passed down with it. I will talk more about this in future posts.
Below is a list I found in a Google search. 6 or 7 of these manifestations ring true for me, some to a greater extent than others. Only recently have I brought my awareness to some of theses traits.
Once you stop numbing your feelings with a substance and find clarity there are things you can no longer ignore and push down, you're confronted in your daily thoughts and forced to look within. Once I started doing 'the work' towards healing – about the beginning of year 3 in to my sober journey, it took on a life of it's own. I could no longer push it down and pour gin over it, there is no off switch, no mute button and nowhere to hide. Nor do I want to, I want to get to the root of what has caused my heart to feel so fragile throughout my life. There is no choice but to roll up those sleeves, get your coveralls on and start stripping back the layers.
If you are in the early days or months of your sober journey don't panic! This stuff doesn't present itself until you become strong enough to handle it. I am ready now. Now it is time. I have built my strength over the last three years, I have learnt how to love and be kind to myself, I am strong. Even in my tears and vulnerability I know I am strong, facing that broken part of me and understanding it, will fortify me in a way I have never known. Just that thought excites and empowers me now. I tell myself this and I am telling you too, everything you need is already within you. You are powerful my darling, you are powerful beyond words. Trust in the process and trust yourself, you've got this Queen.
Lagertha, my inner Queen! https://www.tiktok.com/@sober_loving_radical/video/6941697819736591621?lang=en&is_copy_url=0&is_from_webapp=v1&sender_device=pc&sender_web_id=6971358956112315909
Some days I stand tall and regal, I feel like a Lagertha, legendary Viking shieldmaiden, both warrior and Queen. Other days I feel broken and small. Like that little round faced, blue eyed, golden haired 5 year old, quietly crying her fat salty tears.
I stand with her now. 'I've got you my darling, you're okay, you're safe. I am right here next to you'. And we walk forward together, hand in hand.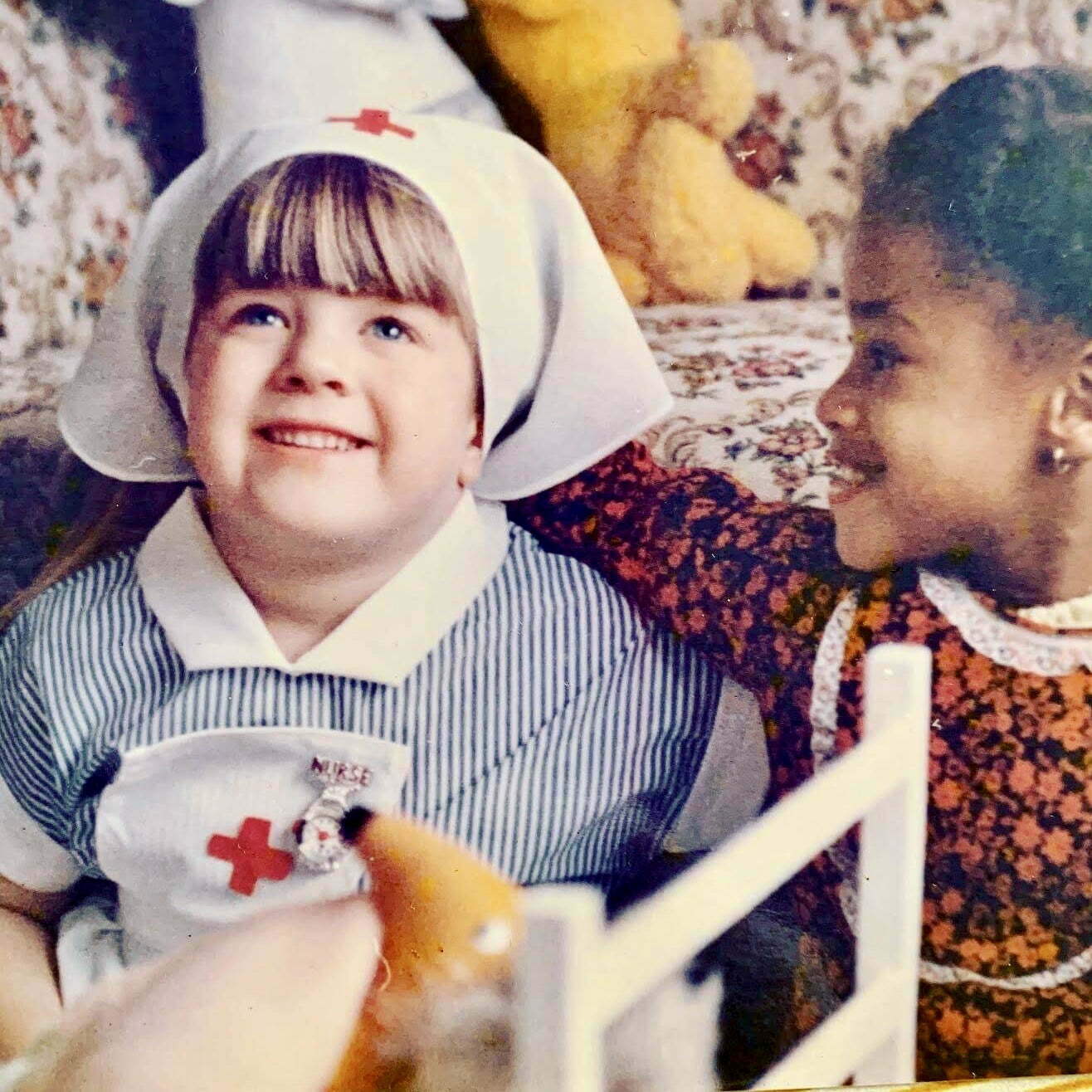 Fathers Day hit me hard this year, like an unexpected punch in the gut. Outwardly my focus was celebrating my husband, helping our children honour him and his efforts, in a way that made him feel loved and appreciated. That was the easy part, I could tell him with absolute certainty that we appreciate all he does for us, that I'm proud of the father he has become, that we value and respect his hard work and how he always finds time for our children, despite how tired he often is. That was the warm fuzzy, lovely part of fathers day.
Thereafter an uncomfortable thought kept popping in to my head throughout the day, 'call your dad, call him, it's fathers day. Just call him now and get it over with'. I pushed it away. Ugh, the discomfort inside me. 'I don't want to, I don't want to talk to him. It's bollocks, it's all bollocks. Fucking fathers day'. I gave up trying to find an appropriate card to send him some years ago… 'to an amazing dad' FUCK OFF. The thoughts persisted… 'ok, just a message then, a Facebook message – that'll be okay. Not now though I'm really busy, I need to make dinner'.
'After dinner' soon comes, that still peaceful hour I have most evenings. I sink in to the sofa and put my feet up. My shoulders ratchet down to somewhere close to where they are meant to be and I pop open the top button of my jeans for an added 'aaaaaaahhhhhh now thats better' moment. I pick up my phone and flick to Facebook, phhhhhht, still don't feel inspired. To make it even more awkward my brother and sister have both posted Fathers Day messages much earlier on in the day. If I leave a message now it's like a guilt ridden after thought. Fuck it. I don't want to, so I'm not going to and I'm NOT going to feel guilty about it. Sigh. There is still a little bit of guilt, he's an old man now, he is part of me. There goes the ever present push and pull of my feelings towards him.
The sad truth of it is, I have no memory of my father actually being there for me emotionally. No bond, no real connection. I remember him turning up to visit, to take me away from my mum to go and stay at his house once or twice a year, which was miles away from home, the place I felt most secure and loved. I stopped going to stay at his house at some point between the age of 10-14. I felt awkward and just wanted to be in my own home. By this stage anger towards him had started to surface, my mum had got tired of making excuses for me and told me I should write him a letter telling him I didn't want to go. I tried my best to articulate how I felt, that staying with him was like staying in a strangers house, that he didn't feel like my dad….whatever that was meant to feel like.
He wrote back a week later and told me that my letter had broken his heart.